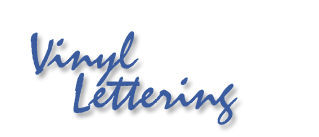 Vinyl Lettering
is the perfect alternative to hand painted lettering. Vinyl letters are computer cut giving you pre-spaced letters, smother edges and a more professional look. This allows for quicker applications and lower costs.
Eastwood Graphics
uses 3M vinyl that has a 5-7 year outdoor life guarantee. Our computer cut, pre-spaced vinyl can be applied to virtually any smooth surface. We can also do special effects with the lettering such as drop shadows, outlines, reversed, arched text, and distortions. See below for some samples.
Uses for Vinyl Lettering include:
The possibilities
are endless,
so use your
imagination!